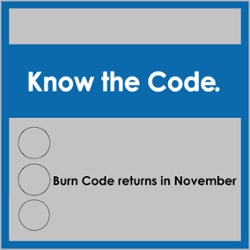 The burn code was last updated on December 7, 2023 at 2:02 PM.
The Burn Code will be updated by 3:00 p.m. every day.
Zip codes affected: 89431, 89433, 89434, 89436, 89439, 89441, 89501, 89502, 89503, 89506, 89509, 89511, 89512, 89519, 89521, 89523, 89557, 89595, 89704.
Map of the ZIP codes affected by the burn code.
What is the Green, Yellow, Red Burn Code?
This code and your participation is our best hope for clean air. In 1987, the Washoe County Air Quality Management Division (AQMD) initiated this code to reduce emissions from woodstoves and fireplaces. The Burn Code program uses traffic lights to convey whether citizens can burn during a given time. The program begins November 1st and runs through the end of February.
Green

. You are allowed to burn when you see the Air Quality Index (AQI) in this Good to mid-Moderate range, but please burn only dry, seasoned wood.

Yellow

. Burning is discouraged. Reducing or stopping wood burning now can prevent air pollution from reaching unhealthy levels.

Red

. When inversions settle into our area and the Health District declares a Stage 1 Emergency Episode – this prohibits burning for 24 hours. Compliance is enforced at this stage.
What areas are affected by the Green, Yellow, Red Burn Code?
The Burn Code runs from November 1 through the end of February and only covers Washoe County from Washoe Lake to Silver Knolls in the North Valley. Included in the code are businesses and residences in the following ZIP codes:
89431, 89433, 89434, 89436, 89439, 89441, 89501, 89502, 89503, 89506, 89509, 89511, 89512, 89519, 89521, 89523, 89557, 89595, 89704.
Why are these restrictions necessary?
Our goal is to reduce the harmful emissions that come from wood burning. The best way to accomplish that is to familiarize as many people as possible about the Green, Yellow, Red Burn Code.
How is the Red Burn code enforced?
When we receive and confirm citizen complaints about visible smoke during burn bans, or when AQMD Enforcement staff observe smoke on those days, violators will receive warnings and/or fines.
Are there exemptions for the Burn Code?
If you live outside the ZIP codes listed before, you are exempt. If you rely on wood burning as your only source of heating, you must submit a Sole Source of Heat Declaration to the AQMD each winter season. Other exemptions include fireplaces and stoves that operate exclusively with natural gas or propane, non-permitted cooking devices, and ceremonial fires related to specific religious activities.
How will these burn code restrictions affect me?
In short, these regulations will lower the chances of reaching red burn code episodes that have occurred in past winters. Compliance will provide us all with better air quality.
How do I know if it's safe to burn?
It's up to you to know the Green, Yellow, Red Burn Code:
Tune into local television and radio weather forecasts;
Visit the AQMD website at www.OurCleanAir.com.
Call 785-4110
How can I burn properly?
Burn only dry, well-seasoned wood, pellets, and fire logs. Properly-seasoned wood is split, stored and aged for at least 6 months. It is darker, has cracks in the end grain, and sounds hollow when smacked against another piece of wood. Dry, seasoned wood burns hotter, cuts wood usage and reduces smoke from your burning device.
Never burn the following, as they can emit toxic pollutants when burned:
coal;
household garbage;
cardboard;
plastics;
foam;
colored magazines, boxes, and wrappers;
coated, painted, or pressure-treated wood;
ocean driftwood, plywood, particle board, or any wood with glue on or in it;
wet, rotted, diseased, or moldy wood.
Start a fire with only clean newspaper or dry kindling. Never use gasoline, kerosene, charcoal starter, or a propane torch. Never let the fire smolder overnight, it does little for heating but increases air pollution.
What are the health effects of breathing wood smoke?
In wood smoke there are fine particulates that — when trapped in excess amounts — can create a dangerous mixture containing soot, smoke, metals, nitrates, sulfates and dust. Long-term exposure to that kind of air has been linked to:
decreased lung function,
aggravated asthma,
development of chronic respiratory disease in children (asthma),
irregular heartbeat,
nonfatal heart attacks,
premature death in people with heart or lung disease and
increased susceptibility to heart and vascular disease for postmenopausal women.
In addition, new health studies show that breathing wood smoke reduces the blood's ability to clot. For children it can lower IQ, decrease memory, and make them more likely to suffer ill health effects. This is because their respiratory systems are still developing and they breathe more air per pound of body weight than adults.
How do I report suspected burn code violators?
People like you who are concerned about the quality of our air are our community's best allies in enforcing burn codes. If you suspect a violator, call the Air Quality Management Division at (775) 784-7200.
Last modified on 10/31/2023
Let's Stay in Touch
Sign up for our newsletter