Walk In Wednesday - Low Cost Sexual Health Services
Did you know Northern Nevada Public Healths has a Walk-in Wednesday Clinic? Low-cost sexual health services like STI Testing & Treatment, birth control, pregnancy testing, free condoms, and other confidential services.
Walk in on Wednesday from 10 a.m.-4 p.m., on a first-come, first-served basis, or make an appointment for any other weekday.
* The clinic will be closed Wednesday, September 28 for staff training. Walk-In Wednesday will resume normal operations on Wednesday, October 5.
Due to increased demand, residents may experience longer than normal wait times and we may have to stop taking clients prior to 4 p.m. We appreciate your patience!
The clinic is located at the Washoe County Complex - 1001 E. 9th Street, Building B.
Call 775-328-2470 for more information.
This publication was made possible by grant number CFDA 93.217 from Title X, and its contents are solely the responsibility of the authors and do not necessarily represent the official views of, nor the endorsement by the OPA/OAHS/HHS, or the U.S. Government.
Clinica Los Miércoles - Servicios de Salud Sexual a Bajo Costo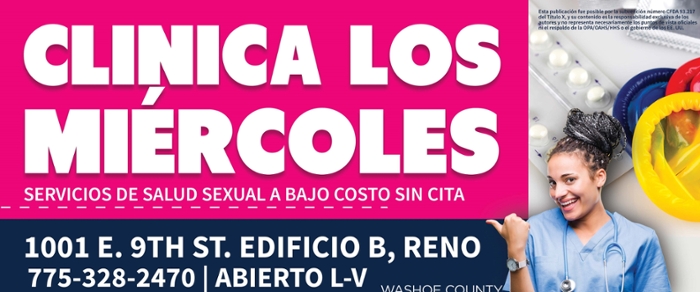 ¿Sabías que el Distrito de Salud del Condado de Washoe tiene una clínica los miércoles sin cita? Servicios de salud sexual a bajo costo como pruebas y tratamiento de Enfermedades de Transmisión Sexual, anticonceptivos, pruebas de embarazo, condones gratis, y otros servicios confidenciales.
Los miércoles sin cita de 10 a.m. – 4 p.m., se atenderá por orden de llegada, o haga cita para cualquier otro día de la semana.
*La clínica estará cerrada el miércoles, 28 de septiembre debido a entramiento del personal. La clínica los miércoles sin cita resumirá operaciones normales el miércoles, 5 de octubre.
Debido al aumento en demanda, las personas pueden experimentar tiempos de espera más largos de lo normal los miércoles y es posible que debamos dejar de recibir clientes antes de las 4:00 p. m. ¡Apreciamos su paciencia!
"Esta publicación fue posible por la subvención número CFDA 93.217 del Título X, y su contenido es la responsabilidad exclusiva de los autores y no representa necesariamente los puntos de vista oficiales ni el respaldo de la OPA/OAHS/HHS o el gobierno de los EE. UU."
Last modified on 08/15/2023
Let's Stay in Touch
Sign up for our newsletter