NORTHERN NEVADA
Public Health
Serving Reno, Sparks & Washoe County
Mpox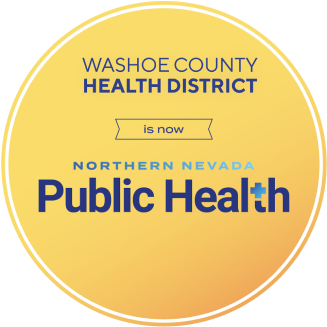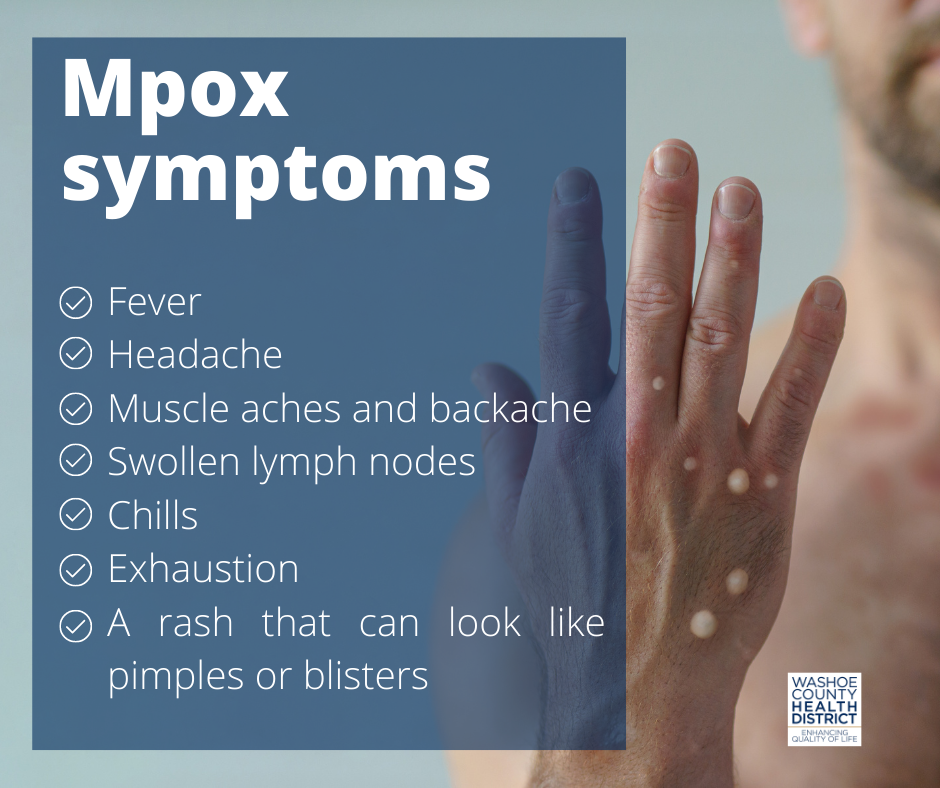 Editor's Note: The U.S. Department of Health and Human Services in late November recommended switching the name of "monkeypox" to "mpox."
The Northern Nevada Public Health is currently monitoring and responding to the mpox virus outbreak. With education and knowledge of prevention strategies, we can reduce the risk of spread of the disease. 
Schedule a mpox vaccine appointment by calling 775-954-4746 
Renown Health also has mpox vaccines available at its 75 Pringle Way location - call 775-982-7737 for more info. 
Mpox Vaccines
Mpox vaccines in Washoe County are extremely limited. 
Current eligibility:
Those who had close physical contact within the past 14 days with someone known or suspected of having mpox. This includes:

Those who know or suspect their sexual partner(s) of having mpox.
Those who live in the same household as someone they know or suspect of having mpox.

Those who have been informed by the Health District they are a close contact of someone with mpox.
Gay, bisexual, or other men who have sex with men, and transgender, gender non-conforming, or gender non-binary individuals who:


Have had multiple or anonymous sex partners in the last 12 months.
Have HIV or a history of a sexually transmitted infection in the last 12 months.

Those who are any gender identity or sexual orientation who:


Are sex workers.
Had sex at a commercial sex venue or in association with a large public event.

Those who are any gender identity or sexual orientation who:


Are a sex partner of anyone in the currently eligible groups.
Anticipates experiencing any of the identified risks.
Those who have received their first dose of the vaccine are eligible for the second dose, even if they do not meet any of the current criteria.
Shipments of the mpox vaccine are provided from state and federal officials. The Northern Nevada Public Health has no control over how many vaccines are sent and when they are delivered.
Signs & Symptoms of mpox 
According to the Centers for Disease Control and Prevention (CDC), mpox spreads from person to person through close physical contact. Symptoms include:
A rash that can look like pimples or blisters that appears on the face, inside the mouth, and on other parts of the body, like the hands, feet, chest, genitals, or anus.
Fever
Headache
Muscle aches and backache
Swollen lymph nodes
Chills
Exhaustion
If you are showing signs of mpox
Contact your physician or medical provider imediately to get tested for mpox; however, it's advised that you call or email ahead of time.
How mpox Spreads & Prevention
According to the CDC, residents should take the following steps to prevent mpox:
Avoid close, skin-to-skin contact with people who have a rash that looks like mpox (See photos here).

Do not touch the rash or scabs of a person with mpox.
Do not kiss, hug, cuddle or have sex with someone with mpox.
Do not share eating utensils or cups with a person with mpox.

Do not handle or touch the bedding, towels, or clothing of a person with mpox.
Wash your hands often with soap and water or use an alcohol-based hand sanitizer.
Spread can occur contact with respiratory secretions of positive case.
Facts about mpox
Mpox is not a sexually transmitted infection (STI); however, it can be spread through physical contact during sex.
Anyone can get mpox.

Mpox is a public health concern in Washoe County and it affects all populations. 
Mpox can be acquired by all people, regardless of gender identity or sexual orientation. More cases have been reported among gay, bisexual and other men who have sex with men; however, anyone who has close, intimate contact with someone who has mpox is at risk for acquiring mpox.

See

 

more information

 

related to mpox and the risks to people who are sexually active.

Mpox causes a rash and can spread from the time symptoms start until the rash has fully healed and a fresh layer of skin has formed.

This can take several weeks.

Mpox is completely different than COVID-19. 

COVID-19 is mostly spread through breathing in respiratory droplets infected with COVID-19 while mpox is spread through close, skin-to-skin contact with people who have mpox.

According to the CDC, some mpox cases were reported among people who share a living space with a person who has mpox. 
Contact Us
For any questions, please see the Freqently Asked Questions section below. For anything else, please email us at monkeypox@nnph.org. Providers can call 775-328-2447. 
Last modified on 08/15/2023
Let's Stay in Touch
Sign up for our newsletter